Special 4-H Project Resources
We are providing support to 4-H project leaders and 4-Hers with on-line resources. If you have any questions please contact the 4-H office for more details or help in obtaining additional 4-H resources.
Special 4-H Projects
We have three inspiring 4-H project so your family can participate in remotely!

"Message of Kindness"
Youth and families create a message of kindness on a 8x11 piece of paper. Take a photo of your creation. Email your message of kindness to jkatawicz@ucanr.edu. I will forward your email to a 4-H family that is creating a slide show to be shared with hospital workers, patients and elderly senior center to help brighten their day. We would like to send the message that 4-Hers care about the good work health worker staff with elderly and sick patents. This is an amazing way to show how important 4-Her are in our community.

"Kindness Rock"
We have an Emerald Star project with a "Kindness Rock". Tired of staying in the house looking for some sunshine and fresh air. We have just the project for you. You will need a clean river rock, paint and creative idea. Clean your river rock, let dry. Then use your imagination and paint or draw a message on the rock. After the shelter in place state order is lifted, deliver your rock to the 4-H office. We have an amazing 4-H member that will place the rock in front of local business with their permission to brighten the day of people walking by the store. This is a great way to send a positive message.

"Sewing Masks"
4-Her's to the rescue! We have many talented sewers in our program. Here is a project we can help with from home.
Forbes, sent out a call for all people that can sew by making mask for 2020 Health care Worker PPE Shortage. Here is the link for instruction on making and delivering the mask to health workers: Sew Masks
We also have set up a new tab for on-line 4-H project resources. You can participate at home in these projects. We also offer zoom for meeting to be held remote.
Face Mask Project (Help with COVID-19 virus)
4-H and COVID-19 - Emerald Star Project idea: sewing and the fight against feeling powerless - Mask Pattern Shared by Wendy Powers
"I like this pattern because the user inserts a HEPA filter that can be replaced over time. It seems more protective (perhaps more appreciated by healthcare workers) than some of the simpler masks."
A few days ago I learned that my hospital, the very one I was born at, was running out of face masks.
My team and I have worked feverishly since then and I'm pleased to say we now have a face mask pattern you can cut on your Cricut Explore or Maker (or by hand with scissors, if you prefer) ... along with complete and detailed directions and photos of every single step!
What differentiates our mask from some others are its many safety features -- three layers of cotton material, a pocket for a changeable filter, adjustable ties for a better fit, and a wire sewn into the top of the mask for a tighter seal. The materials are all things you probably have at home already, too! No need to go out. And both the materials we recommend and the design we show are based on solid research. (And we won't even talk about how cute it is. I mean, c'mon.)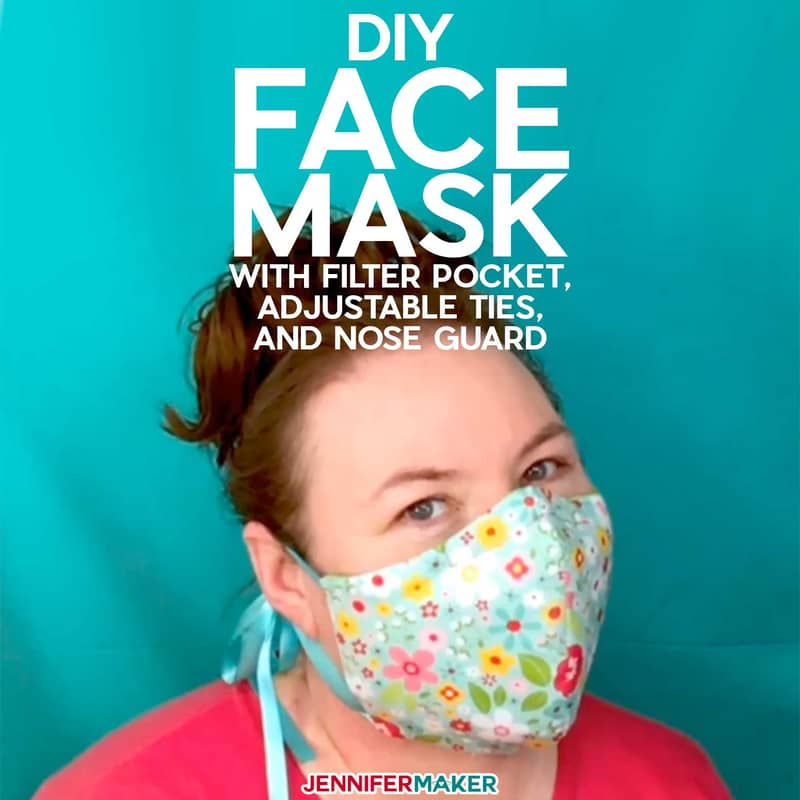 If you'd like to learn how to cut this DIY face mask by hand or on your Cricut, head on over to my blog post now to see the photos and get the free files and patterns. There are SVG cut files for your Cricut or Brother, DXF for your Silhouette, and a printable PDF for everyone with scissors. We documented every single step with a detailed photo and instructions so you'd never get lost. Oh, and the face mask comes in three sizes, with options for simpler styles if you prefer.
After you make some face masks for your family and loved ones, I encourage you to find a local hospital or elder care facility who needs them for its essential health care workers. If you cannot find one, or just aren't sure how to ship it to them, I am volunteering to receive and deliver masks to my local hospital who I KNOW needs them. I would love to receive YOUR homemade face masks and give them in bulk to my hospital, who can distribute them to the healthcare workers who really need them. The address to ship your masks is at the bottom of my tutorial.